One of the 9 members of our Covid Creative gathering, in which we explored the topic of isolation and restrictions, is Isabelle Wiessler.
Isabelle's work in the Magic Carpet international exhibition shows her love of landscapes! While meeting over "zoom" she would come to us from a sun filled room in Germany, her red curled hair and smile were fresh, fun and infectious. Isabelle is full of energy and the lively colours of her quilt exhibit her passion for creating.
Isabelle Wiessler, originally from France, is a full time mixed media artist and often speaks of the missed teaching connections from all over the world.

Her piece entitled 'Horizonte 7' is a continuation in her series of horizons, which she can currently only see through her art.
Horizonte 7

by Isabelle Wiessler
Horizonte 7
Self-dyed Cotton, stitched and then painted with acrylic paint
As you can see by the number it is not the first work I have done with the theme of horizon. But as the idea came down to make a piece during our lock down about where we would rather be, like where a Magic carpet would bring us it was obvious to me – viewing water, horizon & sunset is where I would rather be.
Isabelle is a mixed-media artist with a passion for texture, surface and space, with a fascination for the endless possibilities that line, shape and structure give through a combination of stitching and mark making
She loves the whole cloth art concept. She paints and dyes then stitches her quilts, adding depth and texture and more colour as she progresses.
Her website if full of colour and design and her inspiring works feature political and environmental components.
Do yourself a favour and check out her colourful work!

https://isabelle-wiessler.de/en/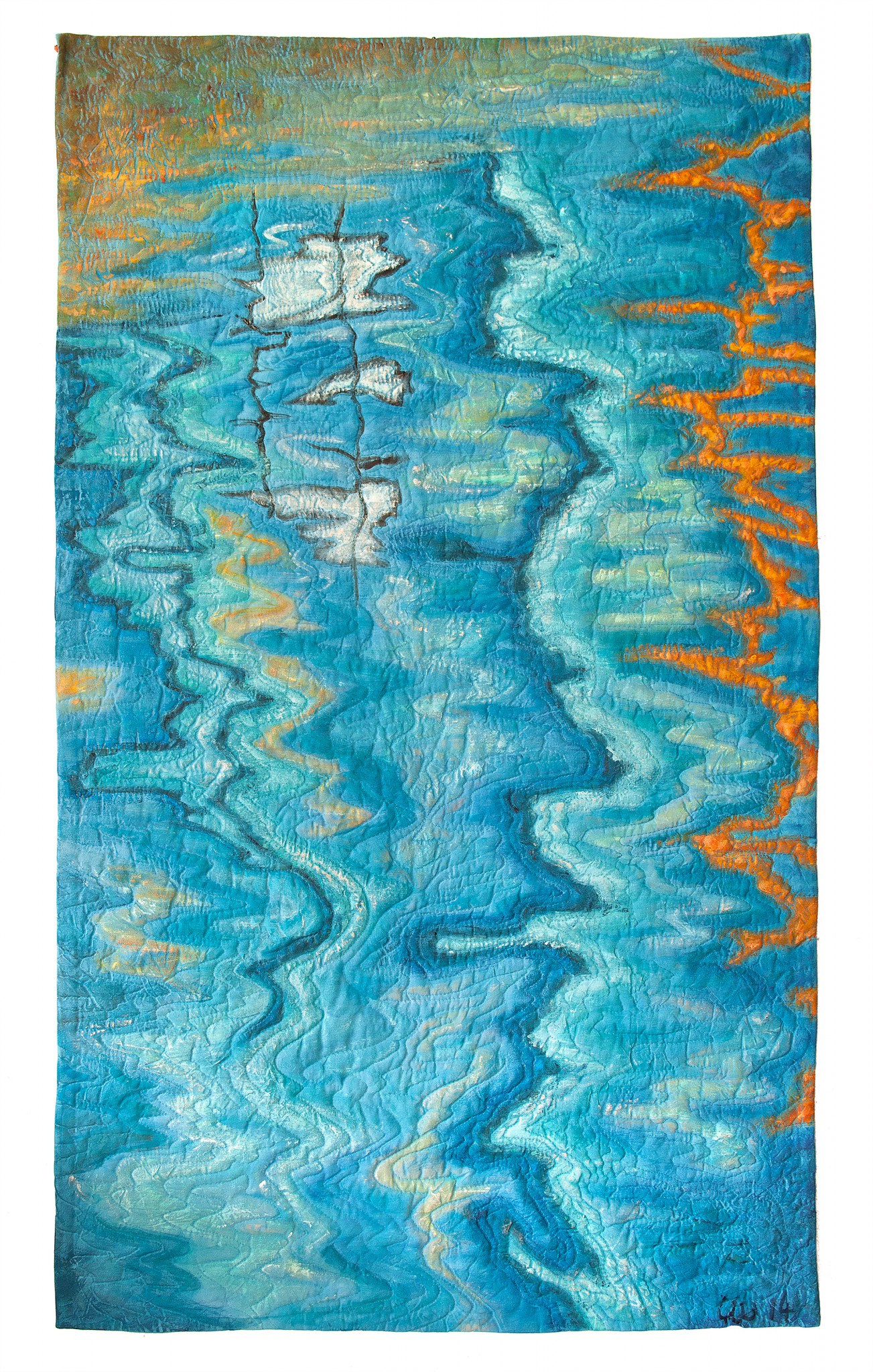 Here are some of her amazing quilts from before covid made us stay home.
Isabelle is also currently in another exhibition…

Come with us into our online gallery, Curated by Christine Seager, Presented by Artspaces. Your personal invitation awaits…